Skelevex - Headstones (set of 2).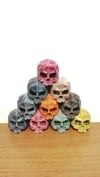 New for 2023, an open edition of mini Skelevex Headstones.
Measuring around 2" tall, in the iconic Skelevex design. Stone cast with each piece individually hand painted and distressed. Finished with a protective a clear varnish.
Available in various sized sets, bagged with header cards.
Select random different colours from the options menu, or add your colour choices in your order details. No duplicate colours will sent unless requested.
Available colours:
1) black (2) blue (3) red (4) green (5) brown (6) orange (7) purple (8) yellow.
Please note: this listing is for a set of 2 individual pieces, group photo for display purposes only.
Committed to keeping art affordable.
Set sizes have been chosen based on shipping brackets, offering bigger savings on pieces per item by choosing larger sets, especially outside of the U.K.
Please note:
May appear slightly different to the above photos, due to studio lighting and monitor settings. May contain small imperfections, due to the hand made nature of the piece.
Not suitable for under 14 yrs. Adult collectable art piece, not a toy.
Please allow up to 28 business days for delivery, although this should be much sooner.
By ordering, you agree to our terms and conditions which are available to view of the menu of this site.